Song of the Week is a feature we'll hopefully keep active. It's exactly what the name says: each week, one of us will pick a song we've been listening to. We'll write something about it. Then, you, the reader, can listen. If you like it as much as we do, that's great. If not, there's always next week.
Song of the Week - 10/06/08: "Magic Bus" - The Who, Live at Leeds, 1970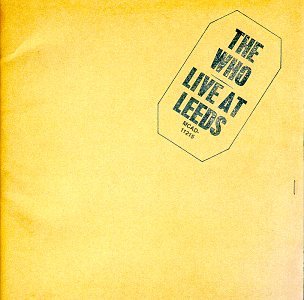 Without a doubt,
Live at Leeds
is the greatest live album I've ever listened to. I think the best performance of the concert comes at the end, with "Magic Bus." In its original studio form, "Magic Bus" is a measly 3:17 in length; a cool song, but too short. That version wouldn't do for a Song of the Week. But the live performance was more than doubled to 7:54, and any constrictions of studio recording went out the window. Driven by a classic "
Bo Diddley beat
" (
chuggity, chuggity, chuggity, chug-chug
is the best way I can describe it), it rumbles along with an entertaining back-and-forth between Pete Townshend and Roger Daltrey about the price of the Magic Bus. The rendition features a couple explosions of sound as harmonica, guitar, and drums erupt at once. The only musician unhappy with the song was probably John Entwistle, whose bass was required to stay on a single note for the entirety of the song.
This song just rocks. I love the beat most of all. It gives you the image of an actual bus puttering down a lonely highway on a hot day, thick black exhaust rising to the sky. It's a fun song, and one that deserves more recognition.